Do you experience nightfall? Do you wake up with a seminal discharge on your nightclothes? Do you find it hard to talk about because it's considered taboo? Well, don't worry. We have the solution to your problem. We assure you that there's a cure for it.
Nightfall (Kasrat-e-Ihtelam in Unani), or nocturnal emissions, can be accompanied by erotic dreams in which a person experiences involuntary ejaculation of sperm while sleeping. The condition is characterized by the sudden discharge of sperm during sleep more than twice a month, with or without wet dreams.
This blog post will give you an in-depth understanding of nightfall, its symptoms and effects, and suggest you the best treatment and Unani medicine online available at HealthyBazar to cure nightfall.
Understanding Nightfall
Nightfall is commonly characterized by an excess of seminal fluid production of thin consistency. Nightfall is caused by frequent masturbation, viewing pornographic and similar images, discussing sex, or listening to an adult talk. It may also occur from certain medications or therapies, such as tranquilizers, sedatives, and blood pressure medications. Stress, depression, anxiety, and a lack of physical activity (obesity, excessive sitting hours, and inactivity) contribute to wet dreams.
Nightfall in Unani
According to Unani philosophy, nightfall is caused by a predominance of phlegmatic humour (Balgami ratoobat), leading to a weakening of the retention power of semen (Quwat-e-maasika).
The other factors/causes that contribute to nightfall are as follows:
Excess of semen (Kasrat-e-mani) - When testosterone levels rise in the male body, semen production also increases.
Excess of sanguine (Damvi mizaj) (Predominance of blood) - Heat causes the scrotum to function more efficiently, leading to an overproduction of semen.
Increased semen motility (Hurqat-wa-hiddat-e-mani)- When the semen becomes thin, its motility increases, so the semen loses its retentive power and flows easily.
Weakness of vital organs (Zo'f-e-Aza-e-Raeesa)- Weakness of the vital organs leads to disturbed body function, which may result in nightfall along with other diseases.
Dilatation of semen passage - When the passage of semen gets dilated, it is difficult to control ejaculation. It can happen at any time but usually happens at night.
Psychological factors such as anxiety, guilt, or depression can also contribute to nightfall.
It can also be caused by a medical condition such as hormonal imbalance, trauma, or a side effect of some medicines.
The following symptoms characterize wet dreams or nightfall:
Fatigue, exhaustion, and a feeling of loss of energy after ejaculation.
A burning sensation while urinating or immediately after urinating.
Inability to sleep leads to insomnia due to sexually explicit dreams.
Lack of concentration can result from shame, fear of leaks, or poor mental health.
Cramping and pain in their legs and backs result from fatigue caused by continuous nightfall.
Dizziness and blurred vision as a result of all vital organs' weakened functions.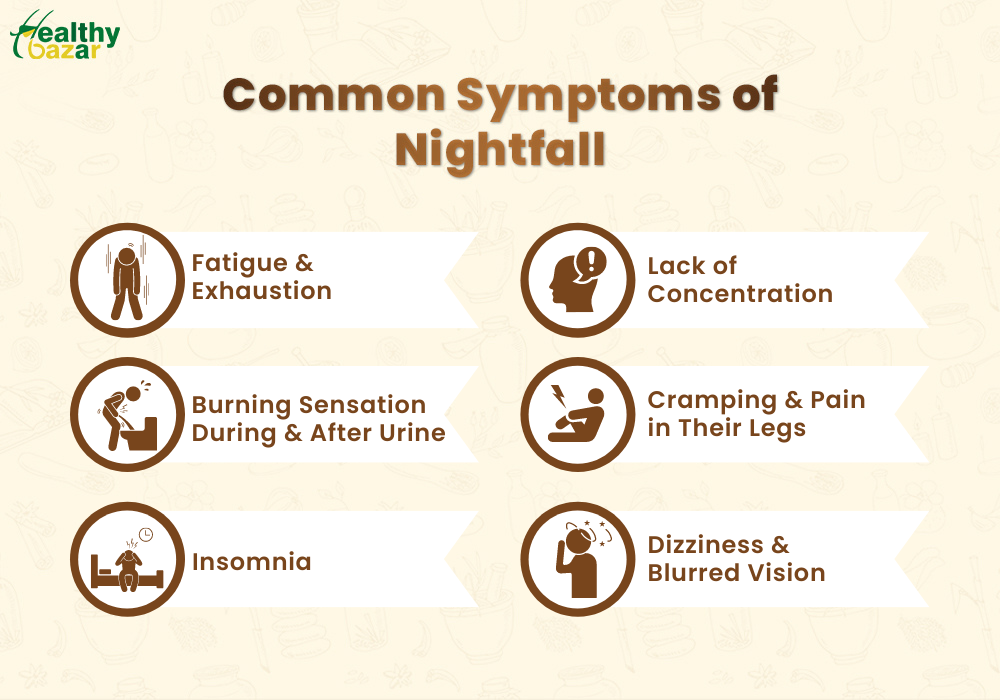 Unani Principles For Treating Nightfall (Usool-e-Ilaj)
The Unani treatment treats the nightfall issue in a three-stage process. Let's understand this process in detail -
1. Regimental Therapy (Ilaj bil Tadbeer)
Moderate yoga poses such as Uttanpadasana (raised legs posture), Brahmacharyasana (floating stick posture), and Kandharasana (shoulder pose) are very beneficial in this regard and can be used with other Unani medicine regimes and principles.
Moderate involvement in sexual activity.
2. Dietotherapy (Ilaj bil Ghiza)
Diet recommendations:
A light diet (Lateef Aghziya) should be consumed, which consists of non-spicy, low-salt foods such as bottle gourd vegetables (Lauki ki sabzi), and ridged vegetables (Taroi/Turai/Tori ki sabzi), etc.
A diet rich in whole grains, pulses, beans, brown rice, and other high-fiber foods promotes faster metabolism and more energy.
A mineral and vitamin-rich diet can help decrease nocturnal emissions; consume fruits like gooseberries, pomegranates, and figs.
Diet restrictions:
Milk and milk products should be avoided. As milk provides you with nutrition, which increases semen production.
High sodium intake leads to low urine output, which deliberately slows down kidney function, resulting in excessive urine collection in the bladder. In turn, it weakens the nerves of the penile region, resulting in nightfall.
Fast, junk and deep-fried food items and cuisines should be avoided. These absorb water, cause dehydration, and are high in fat and sodium.
3. Unani Medicine for Nightfall
These are some of the highly recommended Unani medicines online available at HealthyBazar.
Majun Arad Khurma (Hamdard): It is a natural aphrodisiac that helps increase semen consistency. Take 1-2 tablespoons of milk or lukewarm water twice daily.
Majun Salab (Hamdard): It strengthens the sexual organs. Take 1-2 tablespoons of lukewarm water or milk twice a day.
Dynamol Cream (Hamdard): For local application, it strengthens the penis, improves nerves, and thickens the semen. Apply one hour before bedtime or sexual intercourse (If you are using it before intercourse kindly wash your penis before intercourse)
Some Home Remedies For Treating The Nightfall
You can also consider the following home remedies that can help treat the Nightfall problem:
Coriander is an excellent herb for treating nightfall caused by a weak digestive system and anxiety. Take 1- 1/2 teaspoons of roasted dhaniya (Coriander) powder with plain water.
Fenugreek is a good remedy for wet dreams. Mix 1/2 teaspoon of fenugreek (Methi) powder with an equal amount of honey to mask the bitterness. Use it before going to bed with lukewarm water.
Indian Gooseberry, or amla, helps increase the body's immunity. Drinking 3-4 tsp of amla juice every once a day helps to strengthen the sexual organs and thus eliminate nightfall.
Bottle gourd has a cooling effect that assists the body's night-time processes: Drinking bottle gourd juice (Lauki juice) 30 minutes before bedtime or massaging bottle gourd juice mixed with sesame oil helps strengthen the penis.
Prevention/Precaution (Tahaffuz)
Always sleep on your back. Avoid sleeping in a supine position.
Soft and silky bed linens need to be avoided.
Wear loose-fitting clothes.
Avoid excessive sexual stimulation.
Try new hobbies to relax your mind and reduce your stress levels.
Avoid spicy, oily, and junk food.
Avoid pornography and sexual programming on television and other media.
Develop a healthy sexual relationship with your partner and avoid excessive masturbation.
Conclusion
Unani herbal concoctions have been used for generations to treat a variety of sexual ailments. In the treatment of premature ejaculation, nightfall, and other sexual issues, Unani treatment is frequently regarded as the first line of pharmaceutical therapy. The blog above explains in detail the issue of nightfall and prescribes some highly recommended Unani medicines to address it. These medications are safe, effective, and do not have any side effects. Get genuine Unani medicine online only at HealthyBazar. For personalized treatment for sexual diseases, you can consult our top Unani consultant and practitioner, Dr. Asfiya Nazmi.